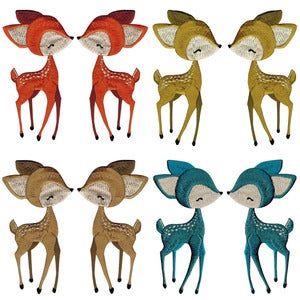 $

5.00
Patches measure 4 inches tall x 2 inches wide.
I recommend ironing the patch on and then sewing around the edge. You can also use fabric glue.
Iron on instructions:
1. Set iron to "cotton" setting
2. Place patch on fabric, embroidered side up
3. Place a small piece of fabric or cloth on top of patch (prevents burning patch or transferring any grime from the iron)
4. Iron firmly in a circular motion for 30 seconds
5. Turn clothing item inside out and iron the back of the patch for 30 seconds.
6. Let cool. If patch comes up at edges repeat steps 3 and 4.
The deer are a little tricky. The legs need extra attention. Just be patient and keep slowly applying heat until they're sealed. After you run the clothing through the wash the edges of the patch may come up but you can touch up with the iron as needed.

Do not iron on to vinyls, nylons or leather.
May stitch around the edges to insure the patch remains on.
Please allow 3-5 business days for the order to be processed and shipped.
U.S. orders take approximately 3 business days to be delivered.
International orders take approximately 2-6 weeks to be delivered.